Investment Considerations
Cepton Inc. provides highly competitive price-for-performance lidar solutions based on its proprietary Micro Motion Technology (MMT®).
The company was awarded by General Motors the industry's largest automotive OEM program, with an anticipated start of production set for 2023.
Cepton has partnered with KOITO, the world's premier Tier 1 auto lighting supplier, to accelerate product development and enable economies of scale.
The company boasts a compelling financial profile supported by a capital efficient model leveraging Tier 1 and system integrator relationships, as well as contract manufacturing.
Cepton is founder-led and guided by management team with a proven track record in advanced lidar and imaging technology.
Cepton Inc. (NASDAQ: CPTN) is a provider of state-of-the-art, intelligent, lidar-based solutions serving a range of markets, including automotive (ADAS/AV), smart cities, smart spaces and smart industrial applications. General Motors (NYSE:GM) has granted a series production award for Cepton's lidar, the biggest such award to date in the automotive space. Cepton's is the lidar component of GM's Ultra Cruise autonomous driving platform. By leveraging its patented Micro Motion Technology (MMT®) lidar platform, the company develops reliable, scalable and cost-effective solutions that deliver long-range, high-resolution 3D perception for smart applications.
Cepton was established in 2016 by co-founders Dr. Jun Pei and Dr. Mark McCord. The company is headquartered in San Jose, California, and serves a fast-growing customer base through an international presence spanning North America, Germany, Japan, India and China.
Micro Motion Technology (MMT®)
Cepton was built from the ground up to meet key lidar industry challenges for mass market adoption. This company's portfolio of proprietary technology is uniquely aimed at facilitating this industry growth through a combination of performance, reliability, affordability and design integration.
Key among its innovations is MMT®, a mirrorless, frictionless, rotation-free 3D imaging platform designed specifically for lidars. Its benefits for OEMs and system integrators include:
Reliability – The durable design uses common, easily attainable materials.
Versatility – The platform is capable of achieving near- to ultra-long range with a wide field of view.
Efficiency – MMT® features a compact form factor, low power usage and inexpensive components.
Scalability – Its simple design means that scale-up to high manufacturing volumes is easily attainable.
Because of their compact form factor, Cepton lidars are embeddable and ideally suited for advanced driver-assistance system (ADAS) integration, whether behind windshield, in headlamp or in fascia.
Agreement with KOITO
KOITO Manufacturing Co. Ltd., the world's premier Tier 1 auto lighting supplier, originally started an evaluation of Cepton's MMT® based lidars in 2018. In 2020, KOITO made an investment in Cepton aimed at accelerating the company's development and enabling KOITO's industrialization of high-performance and high reliability lidar sensors for ADAS and autonomous vehicle (AV) applications.
Through this collaboration, Cepton was able to secure the largest ADAS lidar series production award[1] with General Motors as a sole source in the automotive space. The award covers GM vehicles for the initial period of 2023-2027.
On August 5, 2021, the two companies deepened their relationship when KOITO committed to invest a further $50 million in Cepton's business through its participation in a Private Investment in Public Equity (PIPE) offering of shares of common stock of Growth Capital Acquisition Corp. in connection with Cepton's recent merger.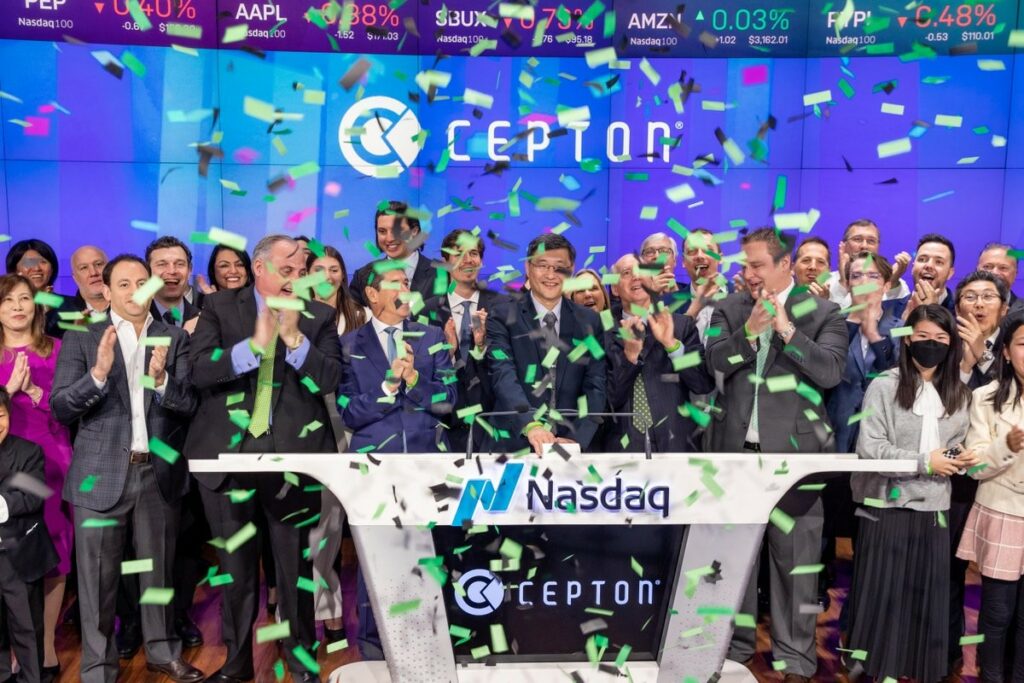 Collaboration with GM
On July 13, 2021, Cepton announced that it had secured an ADAS lidar series production award from a leading, Detroit-based global automotive OEM – the biggest lidar production award by any OEM to any lidar company. It was later clarified that the OEM was General Motors, and Cepton's lidar is part of GM's ADAS Ultra Cruise system.
GM is "expected to deploy Cepton lidars in its next generation of advanced driver assistance systems (ADAS) across multiple vehicle classes and models – not just luxury cars." As such, the agreement marks the potential for "an industry-first, mass-market adoption of lidar technology for automotive ADAS, with an anticipated deployment in consumer vehicles starting in 2023."
On July 28, 2021, Ford Motor Company (NYSE: F) distributed an article on Medium noting, "Ford has been engaged with Cepton almost since their inception in 2016, both for R&D collaboration and small-scale deployments. Cepton LiDAR are deployed in some of [Ford's] smart city projects. Based on Ford's guidance, Cepton delivered a custom version of their LiDAR to enable R&D on advanced ADAS features."
Market Outlook
Driven by increasing development and adoption in automobile safety applications, environmental mapping and 3D-modeling, the global lidar market is forecast to experience considerable growth over the coming years. A research report published by MarketsAndMarkets suggests that the sector will grow to an estimated $3.4 billion by 2026, achieving a CAGR of 21.6% over the next five years.
The report further highlights increasing investments in lidar startups by automotive giants as a driver of growth opportunities in the sector, particularly in North America.
In 2020, ground-based lidar accounted for the lion's share of the overall lidar market, and this trend is expected to continue as the automotive sector continues to rapidly advance adoption across the full spectrum of vehicle classes. One factor not to be underestimated is the high barrier of entry and the exceptionally long time required for automotive OEMs to vet and award a production win to a lidar company. It is a commonly held view that the over 50 lidar companies will inevitably coalesce into a handful serving all OEMs.
Cepton, having a head start through its established partnership with leading global OEM GM, is uniquely positioned to capitalize on this market growth in the years to come.
Management Team
Cepton's founder-led team is made up of lidar industry pioneers with decades of collective experience across advanced lidar and imaging technologies.
Jun Pei, Ph.D., is the company's CEO and Co-Founder. He is a technology specialist with a focus in optics and electronics. Prior to founding Cepton, Dr. Pei founded AEP Technology, a firm focused on developing advanced 3D optical instruments. He received his Ph.D. in electrical engineering from Stanford University.
Mark McCord, Ph.D., is Cepton's CTO and Co-Founder. Prior to founding Cepton, he led advanced development at KLA-Tencor. Dr. McCord also formerly served as an associate professor at Stanford University, where he earned his Ph.D. in electrical engineering.
Winston Fu, Ph.D., is the company's CFO. Dr. Fu is the founder of Silicon Valley venture capital firm LDV Partners. Prior to joining Cepton, he served as CFO and Chairman of Active-Semi before its acquisition. Dr. Fu has also helped to build many technology companies as an entrepreneur and/or board member. He received his Ph.D. in applied physics from Stanford University, as well as an MBA from the Kellogg School of Management at Northwestern University.
[1] Largest known ADAS lidar series production award based on number of vehicle models awarded